L awn and Order is a Sacramento Landscape Design & Construction Company working throughout Sacramento and Placer counties. We are the premier landscaping company and have been providing executive level service since 1988. We can provide you with an unmatched level of quality to suit your specific needs. Ca. Contractors License #811543, California licensed pest control applicator, License # 0337200000.
We are fully licensed and Insured including workmen compensation and operate withing full compliance of California rules and regulations. Services include Landscape Design, Landscape Construction, Commercial Landscape Maintenance, Landscape and Tree Spraying, Complete Tree Care including Tree Pruning, Tree Removals, Stump Grinding and Hazardous Tree Evaluations. Need a Drought Tolerant Landscape? We are the  low maintenance & drought tolerant landscaping specialists.
Cities & Towns We Service
Antelope ⇔ Auburn ⇔ Arden Arcade ⇔ Citrus Heights ⇔ Carmichael ⇔ Clarksburg ⇔ Davis ⇔ El Dorado Hills ⇔ Elk Grove ⇔ Elverta ⇔ Fair Oaks ⇔ Folsom ⇔ Foothill Farms ⇔ Florin ⇔ Gold River ⇔ Granite Bay ⇔ Laguna ⇔ La Riviera ⇔ Loomis ⇔ Lincoln ⇔ Mather ⇔ Natomis ⇔ Northgate ⇔ North Highlands ⇔ North Sacramento ⇔ Orangevale ⇔ Parkway ⇔ Rancho Cordova ⇔ Roseville ⇔ Rocklin ⇔ Rio Vista ⇔ Rio Linda ⇔ Rosemont ⇔ Sacramento ⇔ Sloughhouse ⇔ South Sacramento ⇔ Vineyard ⇔ Walnut Grove ⇔ West Sacramento ⇔ Wilton ⇔
We are very happy with their professionalism, efficiency, commitment to time frames, and most importantly, the final product.
Lisa Parsons
They work fast, keep the property clean, pickup their trash at the end of each day, and was very easy to work with, we would recommend Lawn and Order to anyone!
Jim and Leasa Gentry
Landscape Design
Lawn & Order, Inc. is proud to offer Sacramento Landscape Design Services including Photo Designs for customers who would like to have a portion of their property re-landscaped. The process is quite simple requiring only a digital photo of the area. Our specialized software will recreate your landscape and show you what it could look like with real life images of plants, hardscapes and construction changes. The benefit to Photo Design is that you get to see what it will look like before you commit to the project. We do not charge for Photo Designs if we do the work, its all part of our customer service policy.
Landscape Blue Print Designs
Blue print designs are recommended for new installations or large landscaping projects. Our designs are available in color and can be modified without expense to the customer. Please call for pricing. See this project for examples of Photo and Blue Print Designs.
Landscape Construction
As a full service Sacramento Landscape Construction Company we offer complete landscape installation as well. In addition to hardscapes and softscapes Lawn & Order offers rough wood outdoor construction, night lighting, water falls, arbors, concrete, vegetable garden creations and more. We have the experience and expertise to turn your vision into reality.
Through effective management and proper communication we work to help you stay in budget and build long-term relationships with our clients. We are a full service landscape construction company.
Commercial Landscape Maintenance
Lawn & Order has been providing quality Commercial Landscape Maintenance services to apartments, HOA's and commercial properties in and around Sacramento since 1988. We specialize in building long term relationships with our clients and many have been with us for over twenty years now. Our services include regular landscape maintenance duties you would expect from any gardening service and some that you may not expect such as photo enhanced landscape designs for those areas in your landscape you my want to update. With this tool the customer has the opportunity to see what they are getting before committing to the work. We also provide complete quarterly irrigation audits for our clients which include a written analysis for the customer showing the status of the system and any repairs that may be needed. Each fall we meet with each of our clients to design a strategy for next years budget enabling our customers to express their wishes concerning the landscape. Each item is incorporated into an annual budget proposal providing a detailed cost analysis. Lawn & Order is also a licensed pesticide applicator and provides a quality chemical and fertilization program to our valued customers. As a Certified Arborist we are able to provide professional advice concerning your tree care needs including hazardous tree evaluations, ISA standard pruning and removal, deep root fertilization and system tree injections. Our well trained staff have and average tenor of over ten years.
 Landscape and Tree Spraying
Lawn & Order Inc. takes landscape spraying seriously and is a licensed pest control applicator, License # 0337200000 with the state of California. As such we carry a special endorsement on our general liability policy just for pesticide applicators. We offer complete pest control care for our customers including:
Fertilization
There are seventeen various nutrients that your plants need and often fertilizer blends only target three of them. Landscapes that do not respond as they should to normal fertilizing sometimes require soil analysis and custom blended fertilization to target those nutrients that are deficient. Lawn & Order uses various methods to apply fertilizer depending on each landscape need. We employ both granular and liquid fertilization for turf, ground cover and shrubs. We also utilize deep root fertilization injection for trees particularly when disease or discoloring foliage is present.
Herbicides
Weed prevention is a critical part of every landscape and the right products used at the right time can make or break any landscape. Lawn & Order utilizes both pre emergent and post emergent to achieve our quality landscapes.

Insecticides
Landscape pests such as aphids, oak worms, beetles, whitefly, grubs, and many others can do more than just make your landscape look dull, they often kill or disfigure you favorite plants and trees. Lawn & Order Inc. offers a wide variety of services to both prevent and treat these common pests. From foliar sprays, injections and various other integrated pest management practices we will be sure to solve your pest control problems. Please contact us for a free consultation and estimate for our services. We also offer long term maintenance for fertilization, weed control and insecticide treatment for a low monthly cost.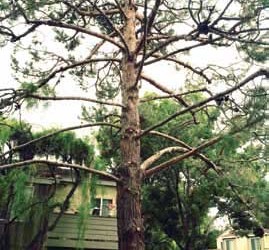 Drought Proofing Your Tree California is now in a fourth consecutive year of drought and many counties have adopted a one or two day per week watering schedule. This will undoubtedly take a toll on our landscapes and trees. Trees in particular are considered the most... read more